Placencia Tips
Dis 'n Dat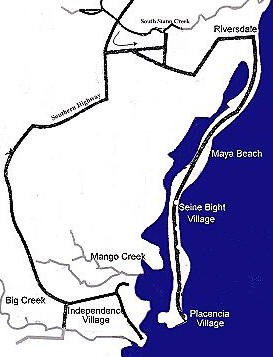 Geography: As shown in the map to the left, the Placencia Peninsula is an approximately 14 mile long peninsula in southern Belize. The Caribbean Sea forms its eastern and southern boundaries and the Placencia Lagoon is its western boundary.

Placencia Village is located at the southern tip of the Peninsula, and is an authentic Belizean Creole fishing village, although most of its fishermen are now also tour guides (snorkeling, fishing, diving, kayaking and sailing).

The southern tip of the Placencia Peninsula is the southern boundary of Placencia Village. The northern boundary of Placencia Village is the Wild Orchid development, about 3/4's of a mile south of The Inn at Robert's Grove. Placencia's northern boundary line is also the southern boundary line of Seine Bight Village, a traditional Belizean Garifuna village - one of four in Belize. (The other three are Hopkins Village, Dangriga Town and Barranco Village, all in southern Belize.) The northern boundary line of Seine Bight Village is at approximately Riversdale, a small community just north of The Placencia Hotel and Residences, and 10 miles north of the boundary line between Placencia and Seine Bight.
Although the boundaries of Seine Bight Village encompass the communities of Maya Beach, Riversdale, and The Plantation Development area, these three communities are not thought of as being a part of Seine Bight Village, either culturally or economically.

The distance from the southern tip of Placencia Village to the intersection of the Peninsula Road with the Southern Highway is about 24 miles.