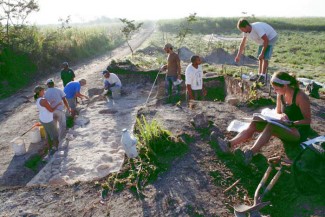 San Estevan Mayan Archaeological Site. San Estevan was settled in the Preclassic Period and reached its greatest occupation levels in the Late Classic Period.
Between the 1960s and the mid-1990s, much of San Estevan was mapped by archaeologists exploring the last incarnation of San Estevan as a Late Classic Period site.

However, the focus of archaeological research on San Estavan abruptly changed in the late 1990s when bulldozers mining for limestone destroyed most of the Late Classic Period structures at San Estevan.
(Ironically, the limestone mined from the San Estevan site and used in the construction of the Western Highway in Belize has caused many, many accidents and deaths due to the slickness of the limestone.)
Although the bulldozers destroyed the Late Classic Period history of San Estevan, they also unearthed Middle and Late Preclassic Period deposits and structures now being studied by archaeologists, who have documented 1500 years of continual occupation at San Estavan from the Middle Preclassic Period to the Late Classic Period.

San Estevan is located near San Estevan Village in Belize's Orange Walk District.

Latitude: 18°8'21.99"N/Longitude: 88°30'51.23"W