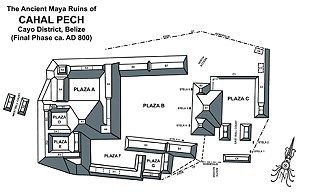 Cahal Pech Mayan Archaeological Site. Cahal Pech is located just outside San Ignacio Town in Belize's Cayo District and is sited high on a hill overlooking the confluence of the Macal and Mopan Rivers.
The Cahal Pech site was first occupied in 1200 BC (Early Middle Preclassic Period) and abandoned in 900 AD (Classic Period).
Archaeologists believe that Cahal Pech was the home of an elite Maya family and includes 34 structures, including a temple, ball court and acropolis. Cahal Pech is a legally declared archaeological reserve in Belize and the government maintains a small museum on the site. Excavation first took place in 1988 and was essentially completed in 2000. However, some archaeological excavations are still ongoing.
Cahal Pech means "place of the ticks" - named by the archaeologists who first found the site in the 1950s as a fallow field (and presumably home to many ticks). Cahal Pech is often paired with Xunantunich on Mayan ruins tours.

Latitude: 17.1556° N/Longitude: 89.0611° W