Placencia Saltwater Fly Fishing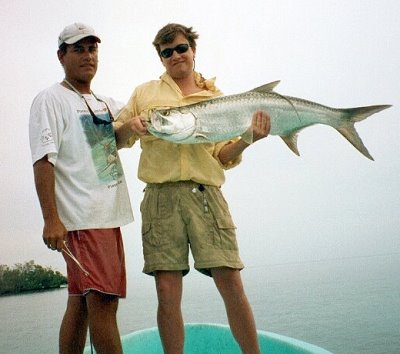 Southern Belize is a first-rate saltwater fly fishing area for permit, with an average size fish of 10 pounds. (Thirty pounds is a trophy fish.)

The area south of Dangriga to Gladden Caye off Placencia is sometimes called the Belize Permit Alley because of the number of permit found on the flats.
Permit in southern Belize are also found in mangrove lagoons such as the Punta Ycacos Lagoon south of Placencia.

Also plentiful are bonefish, snook at Monkey River and in the Placencia Lagoon, tarpon off mangrove cayes, and snapper, juvenile tarpon and machaka (a local species) in the Placencia Lagoon and at Monkey River.

Placencia fly fishing guides are excellent guides who are intimately familiar with southern Belize, most of them having fished the area with their grandfathers and even great grandfathers.
However, don't expect natty fly fishing attire and expensive boats with casting platforms.
Boats are pangas (Mexican skiffs), usually wood and fiberglass, and your boat may have been fiberglassed and finished by hand by your guide himself.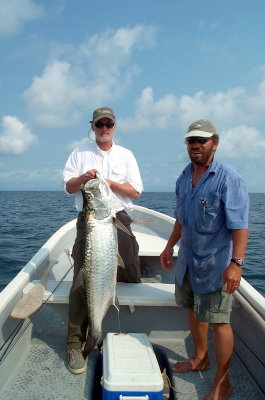 Plus, the guides work HARD, they know how to handle a boat, they know where the fish are, and they know how to catch them (which isn't always the same way that anglers may have learned in Florida, or Andros or the Christmas Islands).
If you listen to your guide, and follow his directions, you're more than likely to catch that elusive bone, permit or tarpon, if any are to be caught that day.

(Of course, it helps if you can spend some time perfecting your casting before you land in Placencia - try for a cast of at least 40 feet with reasonable accuracy.
But, please, don't expect a permit if you've never done any saltwater fly fishing before - or only once or twice.
It also helps if you let us know something about your saltwater fly fishing or light tackle experience when you schedule your trip - that way we can try to pair you with the best guide for your experience level.)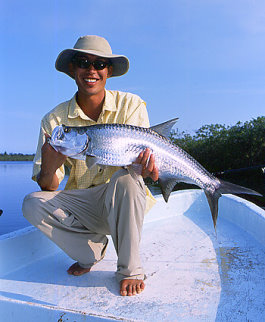 Remember, by law bonefish tarpon and permit are catch and release only, and, please, no live bait - at least not for bones, permit, tarpon and snook.
Also, while snook isn't a legally protected catch and release species, at most, please take only 1 snook for eating and leave the rest for another day!)

Belize's sport fishery is still in pretty good shape, so please help us keep it that way for everybody's kids and grandkids.
Finally, remember, you will need a fishing license -- you can purchase your license on-line at www.coastalzonebelize.org.
This email address is being protected from spambots. You need JavaScript enabled to view it. if you need any guide recommendations, help with hotels or transfers, or if you'd like to mix up your fishing with other activities such as snorkeling or diving, Mayan ruins, caving or cave tubing, jungle hiking or horseback riding, jungle river canoeing - or even culinary adventures such as organic Maya chocolate making or Belize spices and restaurant tours.
Tight lines!