Southern Jungles and Southern Seas Belize Vacation Package
No Longer Available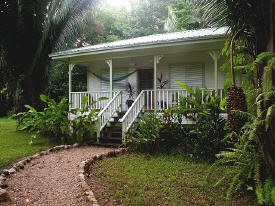 Our Southern Jungles and Southern Seas Belize vacation package starts at the very special Hickatee Cottages, located just outside Punta Gorda Town in the southernmost Toledo District of Belize.

Hickatee is small, literally carved out of the jungle, and beautifully landscaped with native southern Belize jungle plants.
Howler Monkeys call on both sides of the lodge day and night, and the birding is wonderful -- as are the meals cooked by Kate Morton, who, with her husband, Ian, own and operate Hickatee Cottages.
During your stay at Hickatee, Kate and Ian will help you plan your itinerary - maybe touring the Lubaantun Mayan ruins and a private butterfly farm, or kayaking Joe Taylor Creek with an expert birding and kayaking guide, or hiking in the jungle and swimming under a jungle waterfall. (If you've ever dreamed of diving into a pure jungle river backed by a cascading jungle waterfall, this is your chance to indulge those Tarzan fantasies).

On the fourth day of your southern Belize jungle and beach vacation adventure, you'll take a short flight from the Punta Gorda airstrip to Placencia Village.

Placencia is a small Creole fishing village that many people say may be the most laid back place in Central or South America. And, in addition to being laid back, Placencia also has the best beaches on mainland Belize. Plus, Placencia was voted one of the top 10 best beach towns in the Caribbean by readers of Caribbean Travel and Life in 2010.

Lodging in Placencia can be in a small beach cabana or one of Placencia's small family-owned beach hotels, or a first floor beach apartment with full kitchen, living/dining area, verandah, and wonderful hosts.

Placencia vacation activities include a Monkey River tour and a private snorkeling trip including a freshly prepared beach barbecue.
The rate for this Belize Southern Jungles and Southern Seas vacation package is from US$1,131.50 per person, based on two adults, double occupancy, including:
Lodging:

Hickatee Cottages: 3 nights in private cottage

Sea Glass Inn: 4 nights in private room

Transfers:

One-way air transfer from Belize International to Punta Gorda

One-way ground transfers from the Punta Gorda airstrip to Hickatee Cottages

One-way ground transfer from Hickatee Cottages to Placencia, including 3 tour stops, which can include the Lubaantun and/or Nim Li Punit Mayan ruins, Blue Creek Cave, a cacao plantation, a tropical spice farm, or Red Bank Village if the scarlet macaws are in season (generally late December/early January to early February - but time varies from year to year)


One-way air transfer from Placencia to Belize International

Meals: Continental breakfasts at Hickatee, and lunches on day day of private guided snorkeling and Monkey River tours from Placencia

Activities, Tours and Excursions:




Hickatee Cottages:

Complimentary use of plunge pool and bikes
Three tour stops on the ground transfer from Hickatee to Placencia (see above for more information)

Placencia:

Private guided snorkeling tour including snorkeling gear and barbecue island lunch

Monkey River Tour, including lunch


Other: 12.5% h

otel and s

ales tax on transfers, meals and tours, Belize airport security and rider fees, Belize airline fuel surcharges

Not included:
International air
Belize departure tax (US$39.25 per person)
Taxi fare between the Placencia airstrip and Placencia lodging (approx. US$6 each way)
Meals or alcoholic beverages except continental breakfasts at Hickatee and lunch on days of Monkey River tour and private guided snorkeling tour
Guided tours while from Hickatee
Site entrance and guide fees for tours on ground transfer from Punta Gorda to Placencia
Gratuities
Personal items and incidentals
Souvenirs
Trip cancellation insurance
Rate subject to change without advance notice until vacation is booked and deposit is made. Rate subject to change at any time due to government changes in taxes and fees.
This email address is being protected from spambots. You need JavaScript enabled to view it. for more information.