Jungle Waves Belize Vacation Package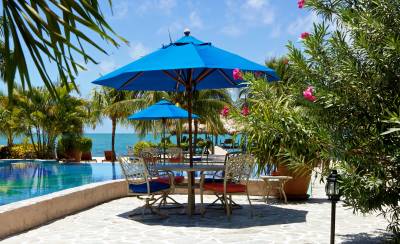 Our Belize Jungle Waves vacation package begins with three nights at Chaa Creek Lodge and Spa, one of Belize's best jungle lodges, followed by four nights at Chabil Mar Villas, a beautiful luxury seafront resort just outside Placencia Village in southern Belize.

Chaa Creek is located on the banks of the Macal River in the western Cayo District of Belize, and on-site amenities include a full-service spa, pool, restaurant and guide services. From Chaa Creek your Belize vacation package includes a tour of the Xunantunich Mayan ruins and your pick of the many on-site jungle activities offered by Chaa Creek, including guided day-time and sunset canoeing on the Macal River, tropical birding, guided jungle hiking or horseback riding and night-time jungle animal tours.
Following three nights at Chaa Creek, a ground transfer through the Maya Mountains (the most scenic route in Belize) takes you to Chabil Mar Villas on the beach just outside Placencia Village, named one of the top ten beach towns in the Caribbean by readers of Caribbean Travel and Life.

Chabil Mar's unique location makes it a perfect vacation spot to enjoy the beauty and luxuries of modern Belize, while at the same time savoring the traditions and hospitality of Placencia Village, a relaxed Creole fishing village with its long history of lobster, rum running and pirates.

Belize vacation activities from Chabil Mar can be easily scheduled after arrival when you can take the often variable marine weather into account before commiting to a tour, and include a full day of private guided snorkeling and fishing, featuring a freshly prepared lunch on a private island, a tour of Monkey River, Monkey River Village and Monkey River jungle to look for Black Howler Monkeys, manatees, crocodiles, iguanas and tropical marine birds, diving, kayaking ad sailing In addition, Chabil Mar offers two beachfront infinity swimming pools, plus complimentary use of kayaks and bicycles.

Our Belize Jungle Waves vacation package rates start at US$2,600 per person based on two adults, double occupancy, including ground and air transfers, 3 nights lodging in a Chaa Creek cottage, 4 nights lodging in a one-bedroom partial Seaview Villa at Chabil Mar, all meals at Chaa Creek, continental breakfasts at Chabil Mar, unlimited on-site activities and a guided tour of the Xunantunich Mayan ruins from Chaa Creek, snorkeling tour and guided Monkey River tour from Placencia, hotel taxes and service charges, gratuities for hotel and restaurant staff, sales tax on included meals and guided tours, Belize domestic airport rider fee, and Belize airline fuel surcharges.

Rate does not include international air, Belize departure tax (US$55 per person), alcoholic beverages, gratuities for guides and drivers, meals after scheduled departure from Chaa Creek except continental breakfasts at Chabil Mar and lunches on days of Monkey River and snorkeling tours, personal items and incidentals, souvenirs and trip cancellation insurance.
Rate subject to change without advance notice until vacation is booked and deposit is made. Rate subject to change at any time due to government changes in taxes and fees.
This email address is being protected from spambots. You need JavaScript enabled to view it. for more information. We'll look forward to hearing from you!