Placencia Cayes and Reef Fishing Package:
7 Days/6 Nights/5 Days Guided Fishing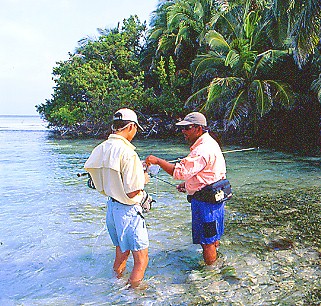 Our Cayes and Reef Placencia Fishing Package is a great trip for the hard-core angler who likes to fish early and fish hard, and combines a variety of fishing locations in the Placencia area, with fishing out of Whipray Caye Lodge, located on Whipray Caye, about 8 miles east of Placencia.

Five full days of fishing (light tackle, fly fishing or trolling), with 6 nights lodging in wooden beach cabanas, each with two double beds, private bath and verandah with hammock. Also includes meals (something to write home about, featuring freshly caught lobster, fish or conch, subject to season regulations), domestic air, ground and boat transfers and taxes.