Caribbean Belize Sailing Charters
Sailing through Belize's beguiling Caribbean sea, exploring the Belize Barrier Reef and deserted tropical islands, sampling tropical Belize specialties such as freshly caught sauteed snapper with a palm wine reduction, afternoon siestas in your favorite hammock, maybe even catching your own lobster dinner.

(Really, can life get much better?)

So, plan to sail away with your own captain and crew on a Belize sailing charter designed especially to showcase the natural wonders of our beautiful Belize.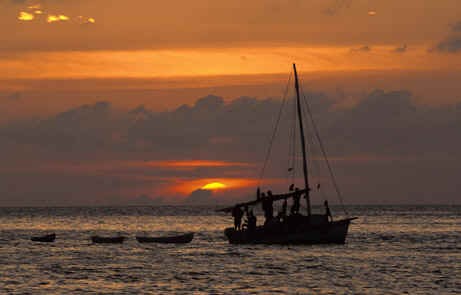 You won't find any hard and fast schedules here. No need to be anywhere at any particular time. Instead, your captain bases the day's itinerary on your interests and the dictates of wind, weather and sea conditions.

Activity options during sailing cruises include fishing (guided or unguided, fly, light tackle and trolling), scuba diving (including scuba diving instruction), free diving, kayaking, snorkeling, swimming, island explorations -- or nothing at all.


We also specialize in combination land and sea cruises such as our Belize Sail and Shore Honeymoon.

All sailing cruises are private charters including a captain, first mate, all meals, house wine with dinner and local rum drinks and local beers. Rates start at US$1,025 per night for 2 adults, including all taxes.

Contact us for more information about a Belize sailing vacation - we look forward to hearing from you.