Toledo Hotels and Jungle Lodges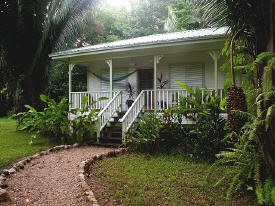 Toledo includes lodging in the deep southern jungle -- but also hotels with amazing seaviews. However, the jungle is not very far from the sea here, and Toledo has no beaches, so we've included all Toledo hotels and lodges under the category of jungle lodges.
Toledo's hotels and lodges are almost all small and owner operated - one of the best things about venturing into Toledo, Belize's southernmost district, and least visited area in the country.
Toledo hoteliers really enjoy welcoming travelers -- often making lifelong friends of their guests -- and travelers can be sure they'll be well taken care of - directed toward the best tours, the most honest vendors, given good advice on independent exploring -- anything necessary to make sure guests have a memorable Toledo experience.
Most Toledo hotels and lodges are also very moderately priced, although Toledo does have one luxury jungle lodge (with concomitant luxury rates).
In addition, for very adventurous travelers, lodging options in Toledo include Mayan homestays in remote jungle locations. A Mayan homestay involves living with a Mayan family for one or more nights, learning about Maya traditions and interacting with family members - probably helping cook the family's meals and maybe helping out on the family farm. Amenities are almost non-existent, but the cultural rewards are many - most clients who have ventured this far off the beaten path consider their Mayan homestay as the highlight of their vacations.
While Toledo is the least known and least visited destination in Belize, it's best to plan early (at least 6 months in advance) during Toledo's high season (19 December through Easter) and for the Belize Chocolate Festival held in May each year. (Cacaofest celebrates Toledo's organic cottage chocolate industry and the prominence of chocolate within the Maya culture. The festival includes a chocolate and wine reception (what could be better than that), tours of cacao plantations, and music and dance performances with a focus on ancient Maya dances such as the Deer Dance.)
So, if you're looking for the not-so-ordinary, and quite possibly the extraordinary, Toledo just might be the place for you.
Contact us for more information about Toledo's hotels and jungle lodges.