Vacation Information about Other Belize Jungle Areas
Crooked Tree Wildlife Sanctuary and Community Baboon Sanctuary are located northwest of Belize City in the Belize District.
The Crooked Tree Wildlife Sanctuary is well known by birders for the wide variety of birds that flock to the Lagoon (including the Jabiru stork), especially from February to early June (traditionally Belize's dry season). Crooked Tree Village also hosts a cashew festival in May each year. Travelers can tour the Lagoon by boat, and the surrounding area on foot, by bike or by vehicle. The Altun Ha, Lamanai and La Milpa Mayan ruins are accessible from Crooked Tree, as is the Belize Zoo and the Community Baboon Sanctuary. The area does have a couple of good places for lodging.
The Community Baboon Sanctuary was founded by a group of private land owners in the Belize River Valley in 1985 to re-introduce Black Howler Monkeys to the area. The visitors center is in Bermudian Landing, not far from the Belize Zoo, and a guide for tours of the Sanctuary may be hired at the Visitor's Center.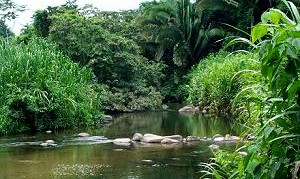 The Cockscomb Basin Wildlife Sanctuary is located in the Maya Mountains off the Southern Highway west of the Mayan village of Maya Centre. Cockscomb is a great place for birding and learning about tropical rainforest plants, and was also the first jaguar reserve in the world, with much study and research about jaguars taking place within its boundaries.
In addition to jaguars, the Sanctuary is full of jungle wildlife such as tapirs, other wild jungle cats such as the Margay, anteaters and deer. (However, most jungle dwellers are nocturnal, so sighting a jaguar or other jungle wildlife is very hit and miss.)
Jungle river tubing, swimming under jungle waterfalls and jungle river kayaking are also available in the Sanctuary. Very basic lodging is available in Maya Centre Village, and camping in the Sanctuary itself can be arranged through the Belize Audubon Society. Cockscomb is also an easy day trip from the Placencia and Hopkins/Sittee areas.