Cayo District Jungle Tours and Activities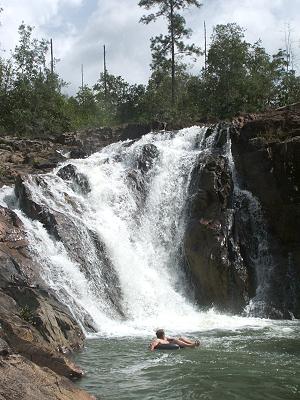 Guatemala borders Belize's inland Cayo District. to the west, and San Ignacio is the main town.
Cayo is the area most travelers visit for their first taste of the Belize jungle, often because they want to try a specific jungle activity or have heard of a specific jungle lodge there, such as Chaa Creek, Blancaneaux, Black Rock, Cave's Branch and many others.
And, Cayo makes perfect sense for a first trip to Belize because most of Belize's most well-known jungle vacation lodges, sites and activities are located in Cayo - such as the Xunantunich archaeological Maya site, Caracol (the largest Mayan ruins in Belize - and an ancient Mayan city-state that rivaled Tikal), cave tubing in the Cave's Branch area, Actun Tunichil Muknal cave, the Cahal Pech Maya archaeological site, jungle horseback riding, zip lining, rappelling, jungle river canoeing and kayaking and beautiful waterfalls in the Mountain Pine Ridge area of the Cayo District.

Cayo also offers a wide variety of lodging options from which to explore and enjoy all that Cayo offers - from luxury lodge to small, boutique, moderate and budget accommodations.
For example, do you want jungle luxury (and you can find a lot of luxury in the Belize jungle), or a place where the kids can burn off excess energy while learning about the ancient Maya, jungle flora and fauna, or the geology of the Mountain Pine Ridge, with geology like no other place in Belize.
Or, are you looking for a sanity-restoring get-away that includes some energy expending activities to work off some of your first-world stress?
Cayo can provide all of the above - and can be easily combined with the beach if you have at least 6 or 7 nights for your Belize vacation. (See our Jungle and Beach Combos page for more details.)
Take a look at our Cayo Accommodations Page for information on Belize jungle vacation lodging in the Cayo District.) And, please don't hesitate to contact us for more information.