Recommended Hotels and Resorts: San Pedro (Ambergris Caye)
Some of the resorts and hotels on Ambergris Caye that we recommend based on the quality of their services, facilities and amenities, within their specific rate class, include: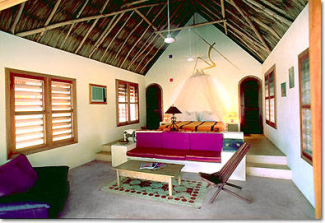 Mata Chica, Ambergris Caye's stylish, color-saturated and hippest resort spot, where the beautiful people meet to eat and greet.

Saturated color, vibrancy and taste dominate both the resort and Mambo's, the house restaurant, with its eclectic and dramatic menu and interior design.

Amenities at this upscale Belize beach resort include a 142-foot catamaran, splash pool, swimming off the pier, air conditioning, attentive service and beachside mini-spa (featuring a special sea salt and sea clay body mask massage).

And, make sure to try the jerk seared sea scallops in plaintain guacamole over a citrus beurre-blanc sauce at Mambo's. Luxury. This email address is being protected from spambots. You need JavaScript enabled to view it. for more information about Mata Chica.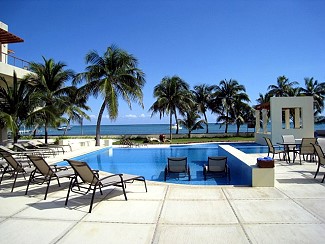 The Phoenix is a small (30 suite) luxury beachfront resort in the heart of San Pedro Town on Ambergris Caye.

Amenities at The Phoenix include an excellent on-site restaurant (Red Ginger), on-site fitness center, complimentary use of WiFi, iPads, Kindles and Wiis to guests (subject to availabilty), a lap pool and a main pool which features two levels, with one level including a waterfall and pool bar.

Accommodations are in 1-3 bedroom suites, each with a seaview, private veranda, a/c, ceiling vans, living/dining area, full kitchen, cable television, DVD player, flat screen TV, and a Jacuzzi tub and king bed in the master suite.
The Phoenix is within very easy walking distance from local restaurants, shops, banks, grocery stores and other services. Moderate-upper. This email address is being protected from spambots. You need JavaScript enabled to view it. for more information about The Phoenix.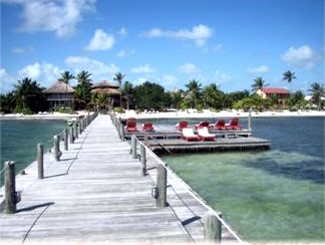 Portofino Beach Resort is located on North Ambergris Caye, not far from Mata Chica.

Portofino features luxury suites, treehouses, seaview cabanas and even a beach mansion, on a lovely stretch of beach with a nice pool and an excellent staff.

In addition to the pool, resort amenities include a very good on-premises restaurant, plus complimentary use of water toys such as kayaks.

Good value, nice beach, comfortable and well-decorated cabanas and suite, plus a good restaurant and pool - what more can you ask?

Moderate-upper. This email address is being protected from spambots. You need JavaScript enabled to view it. for more information about Portofino.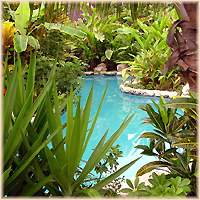 Ramon's Village has a great beach resort location and laid-back beachfront resort ambiance laced with genuine Belizean hospitality best describes Ramon's.

Ramon's is one of San Pedro's largest resorts, with a wide variety of lodging to meet most tastes and budgets. Resort lodging ranges from thatched cabanas, to Honeymoon Suites, Presidential Suites, and garden rooms.

Pool at Ramon's Village, San Pedro, BelizeResort amenities include an 80-foot lagoon-style pool, Pro 42 dive boat, the Purple Parrot Bar (great barbecue) and on-premises restaurant.

A great place for everything from a secluded honeymoon to an easy-going family vacation. Plus, Ramon's is close enough to "downtown" San Pedro for easy trips into town for lunch or dinner, but far enough away to retain its unique island charm.
Moderate-upper. This email address is being protected from spambots. You need JavaScript enabled to view it. for more information about Ramon's Village.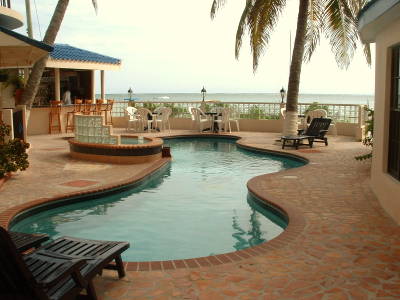 Sunbreeze Hotel and Sunbreeze Suites. Sunbreeze Hotel is located at the southern end of San Pedro Town proper and Sunbreeze Suites is near the northern end of San Pedro Town proper. Both are directly seafront.

Amenities at Sunbreeze Hotel include a dive shop, excellent restaurant (Blue Water Grill) and large pool. Premium rooms are seaview, deluxe rooms are partial seaview and standard rooms are gardenview. All rooms include a/c, color television, private bath, exterior seating area/verandah.

Amenities at Sunbreeze Suites include pool and sundeck, patio bar, concierge services and private dock. All suites are seafront with one bedroom, private seafront verandah, full kitchen, living/dining area with queen sized sofa bed, a/c, ceiling fans and cable television.

Both Sunbreeze Hotel and Sunbreeze Suites are within very easy walking distance from local restaurants, shops, grocery stores, beach bars and other services. Moderate. This email address is being protected from spambots. You need JavaScript enabled to view it. for more information about Sunbreeze Hotel and Sunbreeze Suites.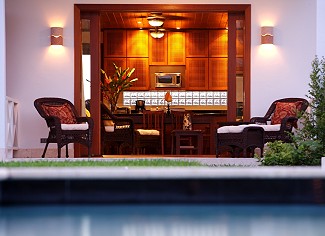 Victoria House is the grande dame of San Pedro Belize beach resorts.

Casual elegance, stunning beach and excellent service keep Victoria House at the top of San Pedro's best beach resort options.

Lodging options range from Plantation Rooms to casitas to a 3-bedroom plantation house, with dining room, living room and kitchen, all opening onto oversized ocean front verandahs - and beautiful new Infinity Suites.

The secluded Rainforest Suite, just fifty feet away from the Caribbean, is a favorite of honeymooners featuring a wrap-around front verandah, floor-to-ceiling windows and French doors.

Luxury. This email address is being protected from spambots. You need JavaScript enabled to view it. for more information about Victoria House.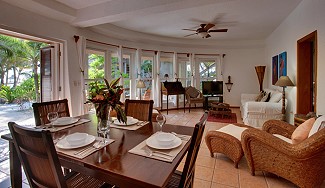 Xanadu Island Resort, one of our favorite moderately priced San Pedro, Belize beach resorts, is in a wonderful location just about a mile south of San Pedro Town, within easy walking distance of local restaurants, bars and other attractions, yet far enough away from San Pedro to be quiet and private.

Xanadu offers all-suite beach resort accommodations (studios to 3-bedroom/3 bath) that include full kitchens, private tiled baths, a/c, ceiling fans, cable tv, telephones with private line, unlimited satellite internet access, private safes for valuables, hair dryers, beach towels, and large shaded decks overlooking the pool and/or ocean.

Private pier with palapa and swim platform at the end and freshwater pool, plus complimentary hammocks and chaise lounges, bicycles, kayaks and a small private nature reserve on the grounds of the resort.

Moderate. This email address is being protected from spambots. You need JavaScript enabled to view it. for more information about Xanadu Island Resort.