Page 1 of 2
Belize Family Beach Vacation Package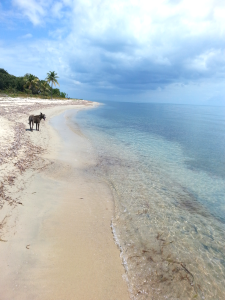 With our Family Beach Vacation Package, your family will live for a week in the very unique Placencia Village, an authentic Belize Creole fishing village.
During your family vacation, you'll learn about the local cultures and get to know local Belizeans, while enjoying the best beaches on mainland Belize, good restaurants, friendly people, and a very eclectic group of travelers and residents -- not to mention great snorkeling and fishing, Mayan ruins and the jungle (including Howler Monkeys, iguanas, manatees, endangered Morelet Crocodiles and tropical birds).
Lodging is in a 2-bedroom/2-bath partial seaview beach suite with full kitchen, living/dining area, a/c, with resort amenities including two swimming pools, kayaks and bikes.
Breakfasts are included, but we strongly suggest trying some of the good local restaurants in nearby Placencia Village for dinner - not only can you enjoy authentic Belizean Creole and Garifua food, but you'll be able to meet and interact with local Belizeans and Belize families. (Lunches are usually part of tours from Placencia.)