Placencia Belize Hotels and Resorts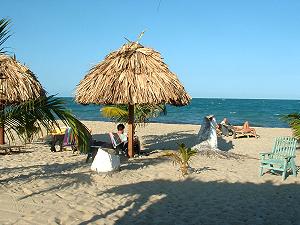 The Placencia Peninsula is a narrow 17-mile long peninsula that juts out into the Caribbean in southern Belize, about 40 miles south of Dangriga. The Placencia Lagoon on the west separates it from the Belize mainland. The Caribbean Sea forms its eastern and southern borders.

Placencia Village is the hub of the Peninsula, where most of the local restaurants, bars, gift shops, banks, the main dock, grocery stores and other services are located. Seine Bight, a Garifuna village, is about 5 miles north of Placencia, and Maya Beach, a distinct community on the Peninsula, is about 5 miles north of Seine Bight.

The Placencia Peninsula offers a good range of lodging options, from rooms with shared baths, to cabanas on the beach with efficiency kitchens, to very nice two-bedroom air-conditioned apartments, beach houses, hotels and luxury villas.
Placencia also has a plethora of good local restaurants, so purchasing a meal plan from a full service resort with a restaurant isn't usually ncessary.
Lodging in Placencia Village is primarily small locally owned hotels, apartments, houses and condos, with several luxury resorts and villas just outside Placencia Village proper. (Almost the entire village is a beach, so even if you're not directly beachfront, you're still likely to be on the beach, no matter where you stay.) Restaurants, shops, beach bars and other services are within easy walking distance from any location within the Village.

A couple of self-contained resorts are located between Placencia Village and Seine Bight, with two small hotels actually in Seine Bight proper. Like the hotels in Placencia Village, hotels in Maya Beach, 5 miles north of Seine Bight, are small and owner operated, although more large rental houses are entering the market north and south of the Maya Beach community. (If you are considering renting a house on the Peninsula, please make sure that the house is registered with the Belize Tourism Board - otherwise, the home owner, most often a non-Belizean, will be competing with registered hotels on an unfair basis.)

Please contact us for more information on Placencia Peninsula hotels and resorts.