Other Belize Cayes (Islands) Lodging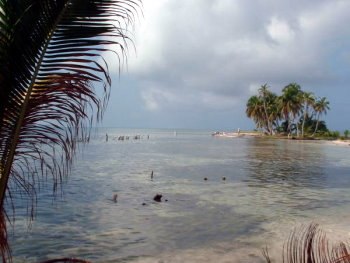 Hundreds of cayes (the local word for islands) are located off the Belize coast between the mainland and the Belize Barrier Reef.
Many of these islands are too small for any type of development, and many are so vitally important to the health of Belize's marine environment that they are simply too valuable to be developed.

However, Belize does offer some unique small island experiences, such as Whipray Caye, catering primarily to salt water fly fishing enthusiasts, Coral Caye, a former fishing camp turned Coppola retreat off the Placencia coast, or Pelican's Pouch, where you can snorkel or dive the incredibly rich marine habitat of Southwater Marine Reserve, a part of the Belize Barrier Reef World Heritage Site.
But, don't expect upscale luxury - most times no a/c because the resort has to manufacture its own electricity and meals are not intricately prepared gourmet affairs. Instead, the focus at meals is on freshly caught and simply prepared local seafood.

No attendant with a chilled towel to wipe your brow during sunbathing at the pool -- the sea breezes at the cayes are so refreshing that a towel would be an intrusion -- and who needs a pool when you have the Caribbean Sea with its spectacular marine life literally at your feet?

Belize's cayes are very special - simple pleasures surrounded by simple natural beauty - they're not for everyone - just those looking for an authentic Caribbean island experience. We hope you're one of those special few.

Contact us for more information on Belize cayes.