Vacation Planning for San Pedro/Ambergris Caye Belize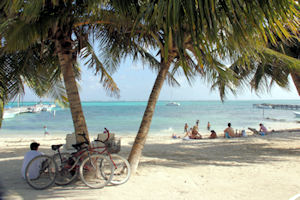 A Belize vacation that includes San Pedro/Ambergris Caye will feature a wide variety of tours, restaurants, beach bars, gift shops and nightlife -- not to mention the nearby world-famous Hol Chan Marine Reserve, Shark Ray Alley and the Blue Hole. (Note: San Pedro is the town located on Ambergris Caye (caye is the local word for island), but many people use the terms Ambergris Caye and San Pedro interchangeably.)
However, Ambergris Caye has maintained its small, friendly ambiance as a Caribbean beach village rather than a mega tourist destination such as Cancun.
San Pedro/Ambergris Caye offers lots of different types of hotels, resorts, tours and tour operators to chose from on your Belize beach vacation, including ruins and jungle tours.
But, because Ambergris Caye is an island, getting to the ruins and jungle will involve a boat or plane ride to the mainland.

The Belize Barrier Reef is closer to San Pedro than it is in Placencia and Hopkins, so diving and snorkeling are a little less expensive than in the more southern areas. Divers and snorkelers can also visit the Blue Hole from Ambergris or Caye Caulker, Ambergris' budget cousin in the north. Other popular activities from Ambergris Caye include snorkeling or diving at Hol Chan Marine Reserve and Shark Ray Alley, sailing/snorkeling tours to Caye Caulker, windsurfing, guided fishing (light tackle, trolling and fly fishing), sailing, parasailing, sea kayaking and hanging out in the nearest hammock watching the sun rise, or set, or both.

In addition, there are two very different areas of Ambergris Caye - the main Ambergris Caye area, where San Pedro Town and most of the resorts are located, and North Ambergris, which is across a small "cut" and which is almost all residential development and more upscale resorts.

(Take a look at our San Pedro Accommodations Page for more information about hotels and resorts on Ambergris Caye -- or This email address is being protected from spambots. You need JavaScript enabled to view it. with any questions you might have.)