Jungle Sands Belize Vacation Package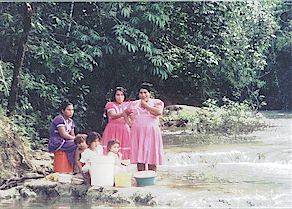 Our Jungle Sands Belize vacation package starts with three nights at duPlooy's Jungle Lodge, a small jungle lodge on the banks of the Macal River in the western Cayo District of Belize, and located right next to the Belize Botanic Gardens.
Jungle adventure at duPlooy's is followed by four nights at Xanadu Island Resort on Ambergris Caye (San Pedro). Xanadu is located less than a mile from San Pedro Town, so very easy access to local restaurants, shops, beach bars and services. Excellent staff and great personal service.
Lodging at duPlooy's is in a Jungle Lodge Room with comfortable beds, private bath and screened vernadah. Very good food, very gracious hosts, and a very wide range of activities, including ATM cave, jungle horseback riding, cave tubing, Mayan ruins (including Tikal), canoeing, jungle hikes, birding and waterfall tours. Guests also receive complimentary use of canoes and bikes, free entrance into the Belize Botanic Gardens and a stop at the Belize Zoo on the way to or from duPlooy's (depending on vacation schedule).

Two full day or combination full or half day jungle tours from duPlooy's are included in rate for this Belize jungle and beach vacation package.

Lodging at Xanadu is in a garden and poolview studio suite with full kitchen, living/dining area, a/c, Internet access, cable television, private bath, ceiling fans and daily maid service.

Snorkeling at Hol Chan Marine Reserve and Shark Ray Alley off Ambergris Caye is included in the rate.

Xanadu's resort amenities for the beach portion of this Belize vacation include beachfront swimming pool, complimentary use of bikes and kayaks, private dock with artifical reef for snorkeling and concierge services for arranging tours, meal reservations and spa treatments.

Rates for this Jungle Sands Belize vacation package are from US$1,538 per person (summer rate), double occupancy, including 3 nights at duPlooy's in a Jungle Lodge Room, 2 full day guided tours at duPlooy's, 4 nights at Xanadu in a pool and gardenview studio suite, snorkeling gear and marine conservation fee for Hol Chan/Shark Ray Alley snorkeling, all domestic ground and air transfers, all meals at duPlooys, hotel tax, sales tax, hotel service charge (10% at duPlooy's, 8% at Xanadu), restaurant service charge (duPlooy's only), Belize domestic airport rider fee and Belize domestic airline fuel surcharges.

Rate does not include international air, Belize departure tax (US$39.25 per person), alcoholic beverages, meals after scheduled departure from duPlooy's, gratuities for guides and drivers, entrance fees for off-site tours from duPlooy's (generally range from US$5-US$15 per person), border crossing fees from duPlooy's if you choose to visit the Tikal Mayan ruins in Guatemala from duPlooy's, US$55 per person surcharge to combine ziplining with cave tubing from duPlooy's, personal items and incidentals, souvenirs and trip cancellation insurance.

Rate subject to change without advance notice until vacation is booked and deposit is made. Rate subject to change at any time due to government changes in taxes and fees.
Contact us for more information.